The Problem For Parapets
Winter's harsh freeze-thaw cycles and increased utilization of aggressive de-icing solutions are increasingly impacting our bridge infrastructure.
Parapet spalling in particular presents real danger to commuters as pieces of deteriorated concrete fall onto the roads below. Repairs are costly, disruptive to traffic flow, and – given the sheer volume of these failures – years behind in completion.

The Solution for Parapets
Prevention is the best solution for delaying parapet deterioration. Poly Salt Armor® parapet panel technology has been engineered to keep ice, de-icing solutions, and water away from concrete parapets, preventing moisture absorption and minimizing the effects of freeze/thaw cycles.
Poly Salt Armor® panel technology is manufactured with lab-tested and field-studied, high-density polyethylene (HDPE) to provide a minimum 20-year lifespan. This lightweight material and double-wall construction allows for easy installation, removal for inspections, and repairs if needed. They cost a fraction of current protection and repair methods and reduce the liability from falling debris.
ODOT Shares Update on Testing
We're Taking Our Show On The Road
We'll be exhibiting at these upcoming conferences and invite you to stop by to examine Poly Salt Armor up close. Meet our team President, Tony Habodasz, and learn how our pier and panel technologies can help you increase safety, improve inventory management, and reduce cost!
76th OHIO TRANSPORTATION EDUCATION CONFERENCE
OCTOBER 26-26, 2022
COLUMBUS CONVENTION CENTER, OHIO
The Problem For Bridge Piers
Each winter, bridge infrastructure endures the onslaught of snow-pack mixed with corrosive de-icing solutions.
Various de-icing solutions get mixed into the snow and are then launched in high velocity by snow plows directly at bridge pillars. The snow-pack sticks to the pillar and begins rapidly deteriorating it over time.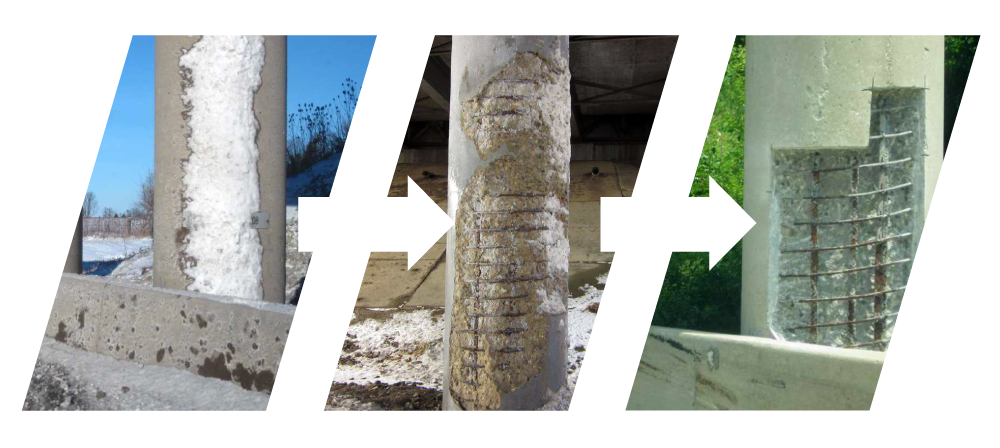 The Solutions For Bridge Piers
Poly Salt Armor® is designed to shield the concrete and deter the corrosive action of roadway solutions on surfaces. Of the 600,000+ bridges in the United States, 150,000+ are structurally deficient.
Why Poly Salt Armor?
Poly Salt Armor® reduces maintenance costs, eases the inspection process, improves worker safety, and saves taxpayer dollars.